Speaker Bios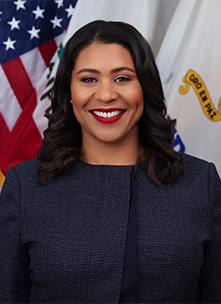 Mayor London Breed
45th Mayor of the City and County of San Francisco
Mayor London N. Breed is the 45th Mayor of the City and County of San Francisco and the first African-American woman Mayor in the City's history. Mayor Breed is working to create a more equitable and just San Francisco for all, focusing on homelessness, mental health stabilization, affordability, and ensuring all San Franciscans have access to a thriving economy. Prior to being elected in the June 2018 election, she served as Acting Mayor, leading San Francisco following the sudden passing of Mayor Edwin Lee. She served for six years on the San Francisco Board of Supervisors, including three years as President of the Board. She is a native San Franciscan, raised by her grandmother in Plaza East Public Housing in the Western Addition.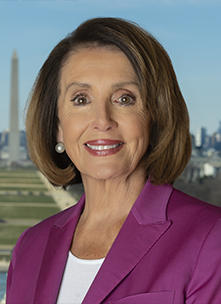 Nancy Pelosi
52nd Speaker of the House of Representatives
Nancy Pelosi is the 52nd Speaker of the House of Representatives, having made history in 2007 when she was elected the first woman to serve as Speaker of the House. Now in her third term as Speaker, Pelosi made history again in January 2019 when she regained her position second-in-line to the presidency, the first person to do so in more than 60 years. For 31 years, Speaker Pelosi has represented San Francisco, California's 12th Congressional District, in Congress. She has led House Democrats for 16 years and previously served as House Democratic Whip. A distinguished record of legislative accomplishment, Pelosi has led the Congress in passing historic health insurance reform, key investments in college aid, clean energy and innovation, and initiatives to help small businesses and veterans. She has been a powerful voice for civil rights and human rights around the world for decades. Pelosi comes from a strong family tradition of public service in Baltimore.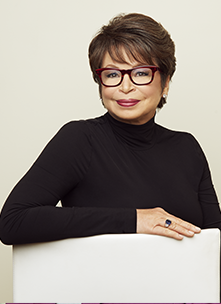 Valerie B. Jarrett
Senior Advisor to the Obama Foundation and Attn
Ms. Jarrett is a senior advisor to the Obama Foundation and Attn, a Senior Distinguished Fellow at the University of Chicago Law School, and President of the Board of When We All Vote. She also serves on the boards of Ariel Investments, 2U, Lyft, the John F. Kennedy Center for Performing Arts, and the Economic Club of Chicago. Ms. Jarrett was the longest serving Senior Advisor to President Barack Obama where she oversaw the Offices of Public Engagement and Intergovernmental Affairs and Chaired the White House Council on Women and Girls. She led efforts to expand and strengthen access to the middle class, and boost American businesses and our economy. Ms. Jarrett has a background in both the public and private sectors and has received numerous awards and honorary degrees, including TIME's "100 Most Influential People" as well as the Abner J. Mikva Legal Legends Award.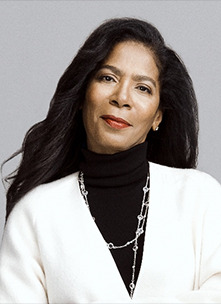 Judy A. Smith
Founder and President of Smith & Company
Judy A. Smith is the founder and President of Smith & Company, a leading strategic advisory firm with offices in Washington D.C., Los Angeles and New York. Over the last 25 years, Ms. Smith has brought her unique combination of communication skills, media savvy, legal and political acumen to clients facing a wide array of issues and challenges throughout the United States and abroad which inspired the hit TV series, Scandal. Best known for her expertise as a crisis management advisor, Ms. Smith has worked with high profile clients and has been featured in numerous national publications. A former federal prosecutor, Ms. Smith also served in the White House as Deputy Press Secretary to President George H. W. Bush. Ms. Smith is the author of the book, Good Self, Bad Self, and has had the honor of receiving numerous communications, leadership and community service awards.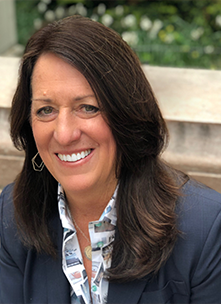 Kate Kendell
Campaign Manager for Take Back the Court
For 22 years Kate Kendell led the National Center for Lesbian Rights (NCLR), a national legal organization advancing the civil and human rights of LGBTQ people and their families. In February of 2019 Kate became Campaign Manager for Take Back the Court, a non-profit dedicated to restoring balance and fair play to the courts by expanding the number of US Supreme Court justices. As the primary media spokesperson in every legal leadership role she has assumed, Kate has appeared in thousands of media outlets including the New York Times, Washington Post, BBC, NPR, Fox News, MSNBC, CNN, and dozens of on-line blogs. Kate is also a visible and vibrant social media voice. Kate grew up a Mormon in Utah and received her J.D. degree from the University of Utah College of Law.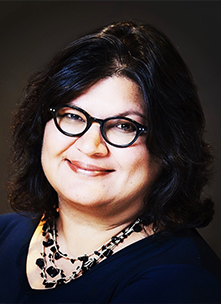 Surina Khan
CEO of the Women's Foundation of California
Surina is CEO of the Women's Foundation of California where she leads the Foundation's work to advance gender, racial, and economic justice. The Foundation's program strategy is focused on building community-based power through investing in nonprofit organizations, training community leaders in policy advocacy, connecting key partners, and mobilizing significant financial resources. For over two decades, Surina has been a leader in the philanthropic and nonprofit social justice sector starting with local community-based publishing in New England and then to national and global work on an array of social justice issues including gender justice, LGBT rights, human rights, and democratic and civic participation. She is Co-Chair of the Board of Funders for Reproductive Equity and serves on the Boards of Voices for Progress, Alliance for Justice, La Cocina, and the Closing the Women's Wealth Gap Initiative. She is a recognized expert on gender, racial, and economic justice issues and is a frequent commentator on the power of women's philanthropy.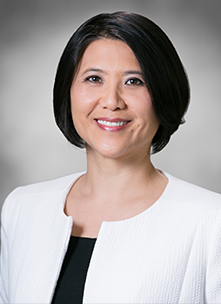 Janet Liang
President, Northern California Region of Kaiser Foundation Health Plan, Inc. and Hospitals
Liang directs Kaiser Permanente's Northern California Region, which provides high-quality and affordable care and coverage for more than 4 million members. Liang also oversees Kaiser Permanente's 21 Northern California hospitals and network of medical offices, continuum care and ancillary services locations. A native San Franciscan, she has 25 years of experience in the health care industry. Prior, she was the President of Kaiser Permanente Hawaii for seven years, and held executive roles over a 15-year career at Group Health Cooperative in Washington State. She is the current chair of the Bay Area Council Healthcare Committee, a member of the American Hospital Association's Institute for Diversity & Health Equity and the Maui Health Systems Board of Directors. Liang also serves as co-chair of the Oakland Thrives Leadership Committee. In 2018, she was named one of the "Top 25 Minority Healthcare Executives" by Modern Healthcare magazine and a "Game Changer" by the Silicon Valley Leadership Group. Liang has also repeatedly been honored by the San Francisco Business Times as one of the most influential women in Bay Area Business.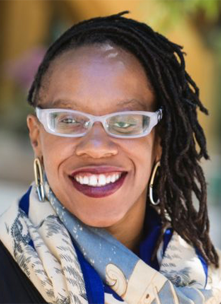 Lateefah Simon
President, Akonadi Foundation
Lateefah Simon is the President of Akonadi Foundation, which nurtures movement building to advance racial justice in Oakland. A nationally recognized advocate for civil rights, Lateefah brings over 20 years of executive experience advancing opportunities for communities of color and low-income communities in the Bay Area. Before joining Akonadi, she was Program Director for the San Francisco-based Rosenberg Foundation. Lateefah has received numerous awards for her work, including the MacArthur "Genius" Fellowship, the Jefferson Award for extraordinary public service, and in 2017 'Most Promising New Foundation President' by Inside Philanthropy. Lateefah was elected to the Bart Board of Directors and Gov. Jerry Brown appointed her to the California State University's Board of Trustees in 2016. She also serves on the Board of Directors for Tipping Point.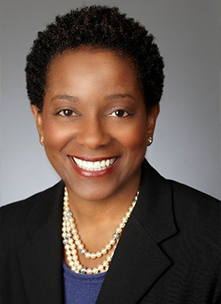 Beverly Anderson
Executive Vice President, Cards & Retail Services, Wells Fargo & Company
Beverly Anderson is the Executive Vice President of Cards and Retail Services at Wells Fargo. She is responsible for the strategy, development, growth and profitability of various Wells Fargo's consumer lending and payments businesses. For more than three decades, Beverly has built businesses and delivered significant results in the Financial Services and Payments industries. She was also the first female and African-American principal at the start-up consulting firm, Novantas LLC, leading the customer experience and customer strategies practices. Beverly is a former chair of the Card Policy Council of the American Banker Association and is Board Chair emeritus of the Council of Urban Professionals. She sits on the Wells Fargo Management Committee and the Board of Wells Fargo Foundation. Black Enterprise named Beverly one of its Most Powerful Women in Corporate America in 2019.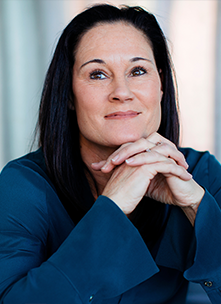 Jennifer Azzi
Olympic Champion & Basketball Coach
Jennifer Azzi's achievements have firmly established her as one of the most accomplished figures in sports. She has been inducted into seven halls of fame, including the Women's Basketball Hall of Fame. Jennifer is an Olympic Gold Medalist, Stanford NCAA National Champion, Two-Time World Champion, Naismith Award and Wade Trophy award winner, WNBA All-Star, and winner of the prestigious NCAA Silver Anniversary Award. Jennifer is currently Director of Special Initiatives at the University of San Francisco and NBA Academies Global Director. Additionally, through her very successful Azzi Academy, she teaches youth valuable lessons both on and off the court. In her role as an NBA Academies Global Director, she is working to grow the international game and provide opportunities for women around the world.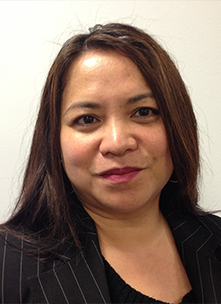 Viki Bamba
Director of Community, Public, & Government Affairs, Small Business Development, Clark Construction Group
Mrs. Marivic Bamba Chennault serves as the Director of Community/Public/Government Affairs and Small Business Development for Clark Construction Group. In this capacity, she is responsible for stakeholder, community and civic engagement in Northern California and the Pacific Northwest. As a former Business Development Consultant to select clients, she utilized her expertise and background to assist them in the acquisition and execution of projects. In the public sector, she served as the Executive Director of the San Francisco Human Rights Commission and prior to that, a Human Rights Commissioner. She started out her career working for a management consulting firm and was assigned to oversee the data management of projects involving disparity studies of governmental minority, woman, local, small, and disadvantaged business enterprise programs. She has been invited to numerous training conferences, events, and television/radio talk shows as a guest speaker and panelist to share her knowledge and expertise.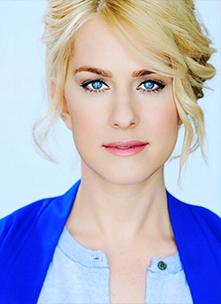 Clair Farley
Executive Director of the Office of Transgender Initiatives
Clair is a human rights and transgender rights advocate who has worked across the county and internationally to promote visibility for marginalized communities. She also worked for over a decade at SF LGBT Center leading their economic development and employment programs. She received the 2017 Outstanding Voices Award from San Francisco Business Times and was recognized as a "Soldier of Social Change" by the San Francisco Magazine's annual Women in Power issue.
Gilda Gonzales
CEO of Planned Parenthood Northern California (PPNorCal)
Ms. Gonzales joined Planned Parenthood Northern California (PPNorCal) in February of 2014 as Senior Vice President of External Affairs and became CEO on June 5, 2017. PPNorCal delivers care to 88,000 patients at 19 health centers as well as education and advocacy programs throughout 20 Northern California counties. Ms. Gonzales previously served as CEO of The Unity Council which is a community development non-profit in central East Oakland and has a long history of public and community service in Oakland City Hall for 14 years, three years in the California State Assembly and was a member of the Port of Oakland Commission and Alameda County's First 5 Commission. She grew up in California's Central Valley and currently lives in Oakland with her husband, Ken Wysocki, Ph.D.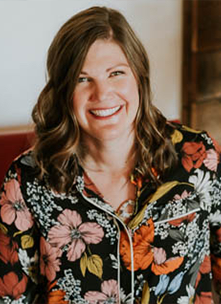 Erin Gore
Found and CEO, Garden Society
Founder and CEO of Garden Society, Erin Gore set out on a mission in early 2016 to bring high-quality, beautiful cannabis-wellness products to women looking for relief from day-to-day stress and pain. After completing her degree in Chemical and Biological Engineering from the University of Wisconsin-Madison in 2006, Erin began a decade-long career with Henkel, where she managed a global adhesive business valued at nearly $100 million. Her time at Henkel provided a solid foundation in leadership, development, and achieving exceptional financial results. Erin was awarded a Top Business of the Year honor in 2016 and was also given the Most Disruptive Innovation Award in 2014. Currently, she serves on the Board of the Healthcare Foundation Northern Sonoma County as well as the Healdsburg District Hospital Board of Directors, and International Cannabis Farmers Association. She is also a member of the Sonoma County Growers Alliance and belongs to the Circular Board, The Collaborative Accelerator for Women Entrepreneurs.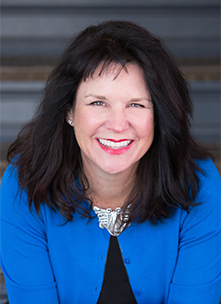 Christina Harbridge
Founder and CEO of Allegory Inc.
Christina Harbridge is a behaviorist who trains and coaches individuals, teams and large groups to understand and leverage their own personal operating system when dealing with others who may or may not be rational. Christina's early experience as founder and CEO of a debt collection agency that collected debt through unorthodox tactics (such as being nice) shaped her worldview on workplace communication. Christina has co-authored software, built and sold a successful finance industry company, practiced acrobatic swing dancing, participated as a NASA test subject and collaborated to design and weld several large-scale metal sculptures. She has served her community on the founding boards of The Bay Lights and Emerge America. She is the author of Swayed: How to Communicate for Impact, which reached number one on Amazon's 'Conflict' category list.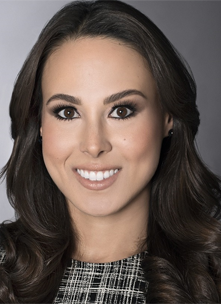 Meena Harris
Founder, Phenomenal Women Action Campaign
Meena Harris is one of the most powerful and dynamic young leaders in America. As the founder of the groundbreaking Phenomenal Woman Action Campaign, she's a recognized and respected rising voice for activism and women's equality. Meena also serves as Commissioner on the San Francisco Commission on the Status of Women, and Head of Strategy & Leadership at Uber, where she leads bold transformation initiatives focused on positive brand impact, customer loyalty, and employee engagement. Meena also is an attorney with extensive experience in data privacy and cybersecurity. She has been featured in Elle, AdWeek, The New York Times, and much more. She is a graduate of Stanford University and Harvard Law School, and currently resides in San Francisco with her husband and two daughters.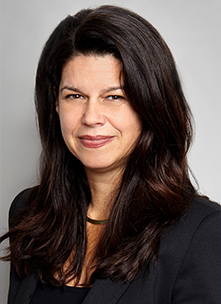 Debbie Mesloh
President of the Commission on the Status of Women
Debbie has served as a lifelong advocate of advancing women both in electoral politics and in the workplace. Debbie was appointed to the San Francisco Commission on the Status of Women in 2015 and elected to serve as President in 2017. Debbie has worked as an advisor to Kamala Harris, as a White House Political Appointee to the Office of the United States Trade Representative, and served as a spokesperson in the 2008 Obama for President and 2012 Obama for re-election campaigns. Prior to that, Debbie served as Vice President of Global Government and Public Affairs for Gap Inc. leading corporate social responsibility work and values-based initiatives. Debbie continues her work to elect women throughout California and currently serves as a communications consultant to leading social justice nonprofits.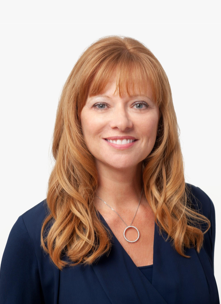 Kerrie Peraino
VP in People Operations, Google
Kerrie Peraino leads Business HR, Googler Experience, and HR Process Design & Technology. As the lead People Partner, she and her team develop and drive the people plans for Google's product areas, business teams, and global functions in partnership with business leaders. She leads a team of over 500 HR People Partners, People Consultants and process and technology engineers who are dedicated to delivering world class HR products, services, and experiences to nearly 100,000 Googlers worldwide. Before joining Google in August of 2017, Kerrie was a senior Human Resources leader at American Express. For twenty-years Kerrie was instrumental in leading Change and Communications for the HR function as part of its global transformation. Her work and writings have been featured in a variety of publications, including DiversityInc, Working Mother Magazine, and Diversity Executive. In December of 2010, the Harvard Business Review released The Sponsor Effect: Breaking Through the Last Glass Ceiling, a research report for which Kerrie served as a thought leader and contributing author.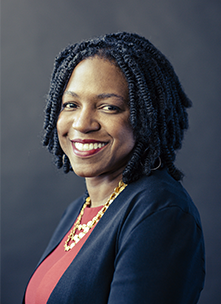 Stacy Brown-Philpot
CEO, TaskRabbit
An expert at building and scaling large, mission-minded organizations, Stacy leads TaskRabbit as CEO. In 2017, Stacy led the successful acquisition of TaskRabbit by the IKEA Group. She has expanded TaskRabbit's presence into more than 50 markets across the United States, United Kingdom and Canada with a plan to expand globally. In addition to shaping the future of work, TaskRabbit is now a core driver of the e-commerce and services strategy for the world's largest furniture retailer. Previously, she spent nearly a decade at Google heading online sales and operations. Stacy sits on the board of directors for HP Inc., Nordstrom, and Black Girls Code. She holds a B.S. in Economics from the Wharton School of Business and an M.B.A. from Stanford University. Stacy lives in the San Francisco Bay Area with her husband and two daughters.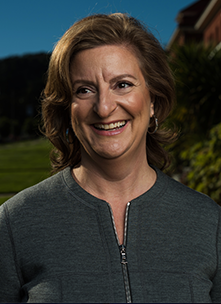 Jana Rich
Founder of Rich Talent Group
For over two decades, Jana has partnered with leading companies, from early stage to Fortune 500, helping to build teams of proven leaders and diverse thinkers. Jana has built well-established relationships with many leading venture capital firms and her clients have launched revolutions that have changed the way we do business today. Before founding Rich Talent Group, Jana spent over eighteen years at two of the world's largest executive search and assessment firms, Korn Ferry International and Russell Reynolds Associates, and serves as an advisory board member for MAKERS and World 50. She has served on the Forbes Executive Women's Board and is a director of the Stanford Business School Women's Initiative Network. She was a mentor in the Women's eCommerce Network and served on the board of BringChange2Mind. Jana has been honored three times by the San Francisco Business Times as one of the Most Influential Women in Bay Area Business.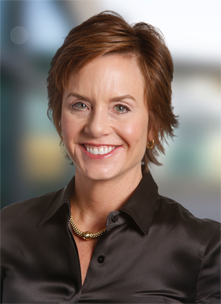 Carrie Schwab-Pomerantz
Chair & President, Charles Schwab Foundation
Carrie Schwab-Pomerantz, CFP®, is a leading advocate for financial literacy and has devoted her career to helping people from all backgrounds achieve financial security. She also oversees Schwab's corporate philanthropy and employee volunteer programs, which aim to strengthen the communities where Schwab operates. In 2010, Schwab-Pomerantz was appointed by President Obama to his Advisory Council on Financial Capability, and also advised the council under President George W. Bush. In 2017, she was appointed Commissioner on the San Francisco Commission on the Status of Women. Her latest book, The Charles Schwab Guide to Finances after Fifty, was described by The New York Times as "an excellent personal finance book." She also writes a syndicated financial column, Ask Carrie. Schwab-Pomerantz earned a BA from the University of California, Berkeley, and an MBA from George Washington University. She lives with her husband, Gary M. Pomerantz, in San Francisco. They have three grown children.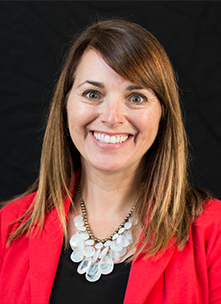 Leslie Wetzel
Associate VP of Development, Director of Women in Leadership Philanthropy, University of San Francisco
Leslie oversees the university's fundraising strategy for institutional donors. She is also charged with creating and leading strategy to catalyze, sustain, and accelerate engagement among the university's alumni, donors and friends. She directs and manages a staff of 25 in: Corporate and Foundation Relations, Alumni Engagement, Development Communications, University Special Events, Stewardship & Donor Reporting and Women in Leadership & Philanthropy. Prior to joining the University of San Francisco, Leslie was the Director of West Coast Development at Accion, a global non-profit organization that supports microfinance institutions in their work to provide financial services to low-income clients. Leslie previously worked with the US Agency for International Development in Peru and Honduras, Earth University in Costa Rica, and Boston Private Bank and Trust Company. Born in Spain, Leslie has lived or worked in over forty countries.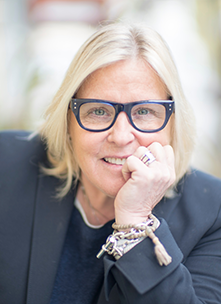 Amy Errett
Founder & CEO, Madison Reed Venture Partner, True Ventures
Amy is Founder and CEO of Madison Reed, an omnichannel beauty brand that is challenging industry titans in the hair color space. She is also a Venture Partner at True Ventures, focusing on investments in consumer and ecommerce startups. Prior, Amy was a General Partner responsible for the Bay Area office of Maveron, a leading venture capital firm focused on the consumer sector. In 2015 and 2018, Amy was named one of the "Bay Area's Most Influential Women in Business" by the San Francisco Business Times. She was also a 2018 finalist for Ernst & Young's Entrepreneur Of The Year® Award in the Northern California region, which she won in 2006 for the consumer category. Amy believes in the power of giving back and dedicates herself to supporting humanitarian organizations. She currently serves on the boards of the University of Connecticut Foundation, Common Sense Media, Glide, and Madison Reed.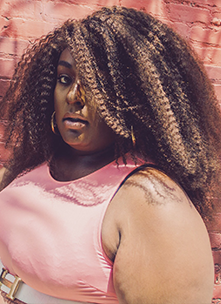 Aria Sa'id
Founder & Executive Director, Compton's Transgender Cultural District
Aria Sa'id (she/her) is an award-winning political strategist and transgender advocate based in San Francisco. She is a Founder and Executive Director of the Compton's Transgender Cultural District, the first of its kind in the world. She previously served in the San Francisco Human Rights Commission as the LGBT Policy Advisor, focusing on social issues that include LGBT violence prevention, sex worker rights, islamophobia, and more. She is a Policy Fellow alumna of the Women's Foundation of California's Women's Policy Institute.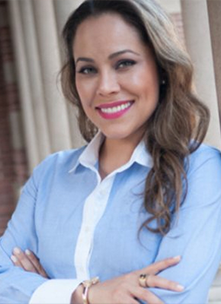 Marisa Rodriguez
Director, Office of Cannabis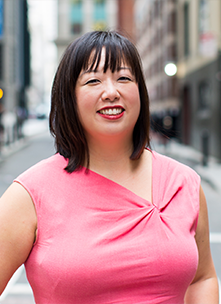 Michelle Jeung
Partner, MJE Strategies
Michelle Jeung is a Partner at MJE Strategies with over 15 years of political campaign research and communications experience. As a vice president at Storefront Political Media, she served as the lead on a competitive, statewide California campaign, as well as numerous other state and local campaigns. Her portfolio also included her work on a multi-year, multi-million-dollar brand advertising campaign for a Fortune 500 company. Prior to returning to her home state of California, she served as the research director on a competitive U.S. Senate race in Nevada during the 2012 election cycle. While based in Washington, DC, Michelle spent a number of years as a research consultant – providing high-level political research and policy analysis to political campaigns, issue-based organizations and corporations across the country. She also held positions at the Democratic Congressional Campaign Committee, Democratic National Committee and GMMB.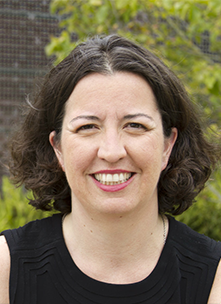 Megan McTiernan
Megan McTiernan has spent over twenty years working in organizations focused on youth and economic security issues. She has worked for a variety of organizations that as use several levers to serve people working to move out of poverty. She currently provides consulting services to individual donors and private foundations. Megan currently serves on the national board for IGNITE bringing political and civic programs to young women and championing the need for more women in public office. She was a volunteer for ten years with the local CASA program serving youth in foster care. She has served on the steering committee for the local and national Asset Funders Network. She served on the board of directors for Exponent Philanthropy. She was a KIVA Fellow in Mexico analyzing the impact of microfinance. Megan holds a BA in Spanish and Latin American Studies from Tulane University and an EdM from Harvard University.