About the Mayor

About Mayor London N. Breed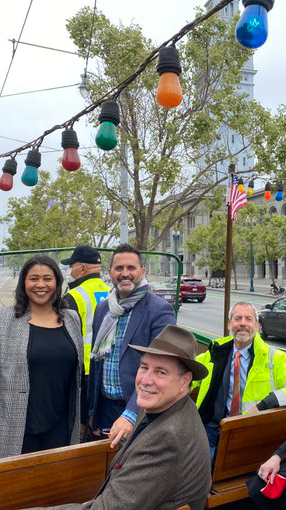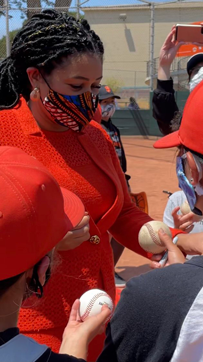 Mayor London Breed is the 45th Mayor of the City and County of San Francisco, and is working to create a more resilient and equitable San Francisco for all.
During her administration, she has prioritized policies and programs to address some of the most crucial issues facing the City, including housing, homelessness, workforce development, public safety, climate change, and recovering from the COVID-19 pandemic.
Born and raised in San Francisco, Mayor Breed's vision for the City is rooted in her experiences growing up in public housing and living in neighborhoods impacted by redevelopment, and her commitment to creating opportunities for all San Franciscans to live and thrive.
COVID-19
Since February 2020, Mayor Breed has led San Francisco's response to COVID-19 with a focus on vaccinating all San Franciscans and protecting the health of the City's most vulnerable. Her early and decisive actions to issue a Stay Home Order in March 2020—the first in any major city in the United States—has been credited with controlling the spread of COVID-19 in San Francisco, preventing the health care system from becoming overwhelmed, and saving lives. Under her leadership, the City has developed an extensive network of COVID-19 vaccination sites and mobile units, which have resulted in 85% of all residents receiving at least one dose of the vaccine, one of the highest rates in the country.
Mayor Breed has also led San Francisco's efforts to sustain local businesses, especially small businesses, and help them recover. She spearheaded efforts to provide more than $63 million in grants and loans to more than 3,000 small businesses, and launched various initiatives to accelerate the City's economic recovery, including making her Shared Spaces program permanent and streamlining legislation making it easier for businesses to host outdoor entertainment venues.
Additionally, Mayor Breed's Downtown Recovery Plan advances the City's broader economic vitality and recovery by attracting workers and visitors back to the downtown area. As part of her plan, Mayor Breed is investing in activations and community ambassadors to make the City's Downtown feel welcoming and engaging.
Housing
To make San Francisco more affordable in a time of increased housing costs, Mayor Breed is focused on adding more housing for low- and middle-income by streamlining bureaucracy and cutting permitting times while also investing more than $1 billion in affordable housing, including moving forward a $600 million affordable housing bond.
In October 2021, Mayor Breed introduced her "Cars to Casas" legislation, which aims to increase density on auto-oriented lots. If approved, the ordinance will increase density on auto-centric lots to be up to four units in Residential Housing zoning districts.
Homelessness and Mental Health
Mayor Breed has built on her commitment to creating more housing and shelter for homeless residents, especially as San Francisco emerges from the COVID-19 pandemic. Under her Homelessness Recovery Plan, launched in July 2020, the City will expand capacity in the City's Homelessness Response System and make 6,000 placements available for people experiencing homelessness through Coordinated Entry, including 4,500 placements in Permanent Supportive Housing. To date, the City has placed 2,662 individuals into housing and congregate shelters, just under 50% of the July 2022 goal.
As part of her initiative to help those suffering from mental health and substance use disorders on City streets, Mayor Breed has added mental health stabilization beds, authored conservatorship legislation, and launched a Street Crisis Response Team, which has responded to over 5,000 crisis calls.
Public Safety
Mayor Breed recognizes that law enforcement and the communities they serve must work together to build a safer city. Since becoming Mayor, she has launched targeted efforts to address the public safety needs of residents, and worked with the community to introduce a plan to reform criminal justice and public safety. This includes ending the use of police in response to non-criminal activity, addressing police bias and strengthening accountability, demilitarizing the police, and promoting economic justice.
Equity
To ensure that all San Franciscans have access to a thriving economy, Mayor Breed has invested in workforce development opportunities for local residents, including her Opportunities for All initiative, which is providing more than 4,000 paid internships for youth to prepare for their future careers.
In June 2020, Mayor Breed announced her vision to fundamentally change the nature of policing in San Francisco and issued a set of policies to address structural inequities. Her priorities to achieve this vision are ending the use of police in response to non-criminal activity, addressing police bias and strengthening accountability, and promoting economic justice. Part of Mayor Breed's vision for promoting economic justice includes reinvesting City funding from law enforcement into the African American community.
Environment and Transportation
Mayor Breed is pushing to make San Francisco a cleaner and more resilient City, addressing the urgent threat of climate change by moving forward ambitious environmental goals, including transitioning to 100% renewable energy by 2030. Additionally, Mayor Breed seeks to reduce emissions 61% below 1990 levels by 2030 and reach net-zero emissions by 2040.
To reduce emissions 61% by 2030, Mayor Breed has committed to increasing low-carbon trips to at least 80% and increasing the level of electrification of vehicles to at least 25% of all private vehicles registered. In July 2021, Mayor Breed expanded her Free Muni for Youth program to further advance her commitment to transit equity and sustainability.
About Mayor Breed
Mayor Breed served for six years on the San Francisco Board of Supervisors, including three years as President of the Board. During her time on the Board, Mayor Breed passed legislation to create more housing along transit corridors and prioritize residents for affordable housing opportunities in their communities. She helped to reform the City's emergency response systems, secured funding for San Francisco's homelessness support network, and enacted the strongest Styrofoam ban in the country. She also worked to implement the Rental Assistance Demonstration (RAD) program to rehabilitate and preserve thousands of long-neglected units of permanently affordable housing.
Prior to being elected by voters in a historic June 2018 election and winning re-election for a full four-year term in November 2019, Mayor Breed served as Acting Mayor, guiding and leading San Francisco following the sudden and tragic passing of Mayor Edwin M. Lee. Before her election as Supervisor, Mayor Breed served as Executive Director of the African American Art & Culture Complex in the Western Addition for more than over a decade, transforming the center into a vital, financially-stable community resource that provides after school arts and cultural programs for youth and seniors. She also served as a San Francisco Redevelopment Agency Commissioner for five years and in 2010 was appointed by then-Mayor Gavin Newsom to be a San Francisco Fire Commissioner, where she served until her election to the Board of Supervisors.
She is a native San Franciscan, raised by her grandmother in Plaza East Public Housing in the Western Addition. She graduated from Galileo High School and attended the University of California, Davis, earning a Bachelor of Arts degree in Political Science/Public Service. She went on to earn a Master's degree in Public Administration from the University of San Francisco.
Get Connected with Mayor Breed