Housing
MAYOR LEE CREATES HOUSING FOR ALL SAN FRANCISCO RESIDENTS
Creating Housing for Families & Residents at Every Income Level is a Top Priority for Mayor Lee's Administration
Key initiatives part of Mayor Lee's Housing Plan include:

1. Sponsoring pioneering initiatives
In 2012, Mayor Lee pushed for the landmark approval of the Housing Trust Fund which invested $1.5 billion in affordable housing production and housing programs until 2042.
In 2014, Mayor Lee pledged to construct 30,000 new and rehabilitated homes throughout the City by 2020, with half available to low, working and middle income San Franciscans. San Francisco is well on track towards those goals. Since announcing his Housing Plan in January 2014, over 17,100 units have been built or completely rehabilitated, with over 6,100 of those units permanently affordable to low and moderate income San Franciscans.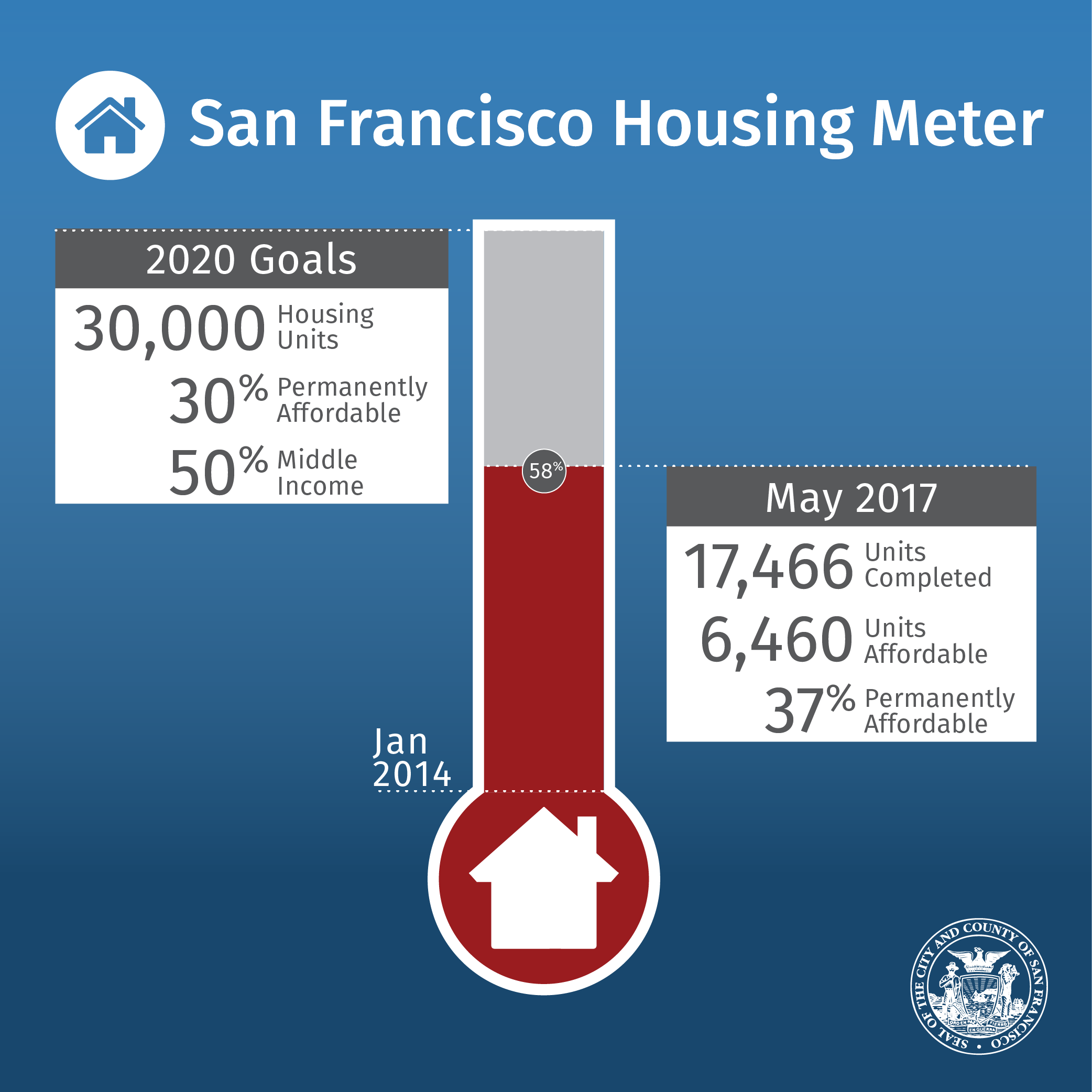 2. Stabilizing and protecting neighborhoods, and keeping residents in their homes
Mayor Lee launched a Small Site Acquisition Program, which funds the purchase & stabilization of multi-family rental buildings in neighborhoods that are susceptible to evictions and rising rents.
He created preferences for Neighborhood Residents and Displaced Tenants in our affordable housing programs, to help keep residents in their communities.
Lee launched the Ellis Act Housing Preference Program (EAHP) for tenants who are evicted under the State Ellis Act. Displaced tenants are now given preference for the City's affordable housing programs.
3. Building more affordable housing for all income levels
Mayor Lee has increased funding for affordable housing at a rapid pace by:
Securing voter approval for 2015's Proposition A, which provides $310 million to support affordable housing at all income levels.
Sponsoring a state law authored by Senator Mark Leno that provides $500 million of funding to accelerate the development of 3,300 affordable housing units in the city's former redevelopment areas
4. Revitalizing and rebuilding San Francisco public housing, and improving thousands of San Francisco Housing Authority units
The City has completed 80 brand new units at Hunters View, with another 207 under construction at Alice Griffith and rehabed over 1400 severely distressed public housing units through the Rental Assistance Demonstration Program with a total of 3,491 units being completed this year, 2016.
5. Continuing to expand San Francisco's homeownership downpayment loan programs, which helps recipients address the upfront hurdles of becoming a homeowner, and create more middle income homeownership opportunities, particularly on land under public control
Lee has replenished the Teacher Next Door Loan Program, and working with outside partners to double downpayment loans for moderate income families in San Francisco.
He secured $80 million of new revenue to help educators and middle-income residents who are paying rent or are buying their first home.
Mayor Lee created a Teacher Housing Initiative in partnership with SFUSD, which will create affordable housing opportunities for over 500 teachers and educator households.
6. Ensuring new housing improves San Francisco's growing neighborhoods
Mayor Lee approved 2014's Proposition A, a $500 million bond that funds new transit, street transit infrastructure, bike and transit-only lanes, and Metro stations improvements.
Lee adopted a citywide Transportation Sustainability Fee, which is anticipated to bring in well over $1 billion over the next 30 years for Muni, BART and Caltrain upgrades, as well as funding for bicycle and pedestrian programs, in developing neighborhoods.