Mayor's Teacher of the Year Award
Congratulations to the 2015-2016 Mayor's Teacher of the Year Winners!
Rhonda Jefferson, PreK, Presidio Early Education School
Mark Rosenberg, 3rd Grade, Monroe Elementary School
Kathy Angus, 4th and 5th Grade, Argonne Elementary School
Helana Corda, 6th Grade, James Lick Middle School
Tomokazu Morikawa, 9th-12th Grade World Language/Japanese, George Washington High School
Click here for more information about the winners.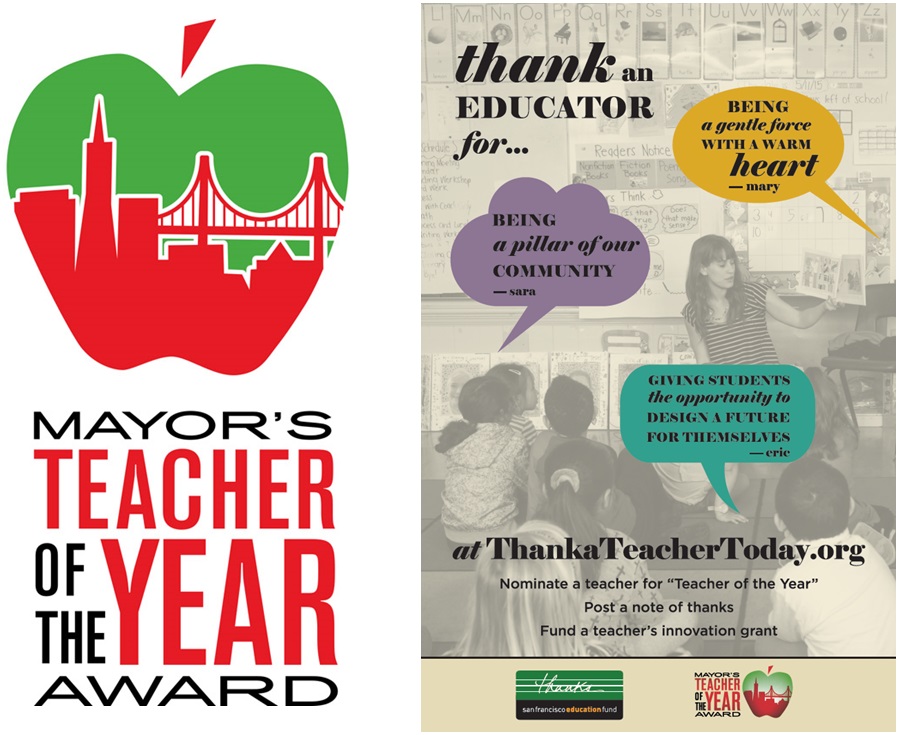 Know a teacher who is particularly amazing, dedicated, talented and all around exceptional? 
Nominations are OPEN for year 2016-2017.
You can also download a hard copy of the nomination form (click below) and submit via mail or fax:
Mailing address:
Attn: Hydra Mendoza
Office of Mayor Edwin M. Lee
1 Dr. Carlton B. Goodlett Place, Room 200
San Francisco, CA 94102
Mayor's Office Fax Number: 415-554-6160
  Important Note: In order to be eligible, a teacher must have the following...
- Full time tenure at a San Francisco Unified School District site

- At least 5 years of teaching experience in the San Francisco Unified School District




- An exemplary history of successes and evaluations
For more information about the selection process and timeline, please click here.
Explore more ways to appreciate teachers:
Click on the link below or go to www.ThankATeacherToday.org to join San Francisco Education Fund's citywide campaign to thank all of our city's public school teachers for their hard work and dedication.

Read more about the Teacher of the Year Award